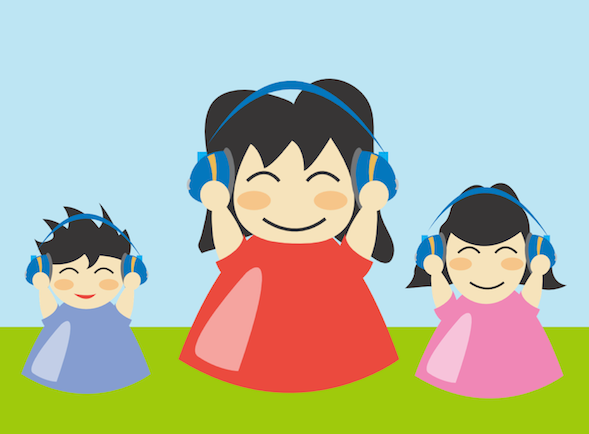 Listening to music with your kids benefits their development and allows you to connect and communicate with them, even before spoken language is learned! As infants and toddlers, it stimulates their brains, soothes nerves, and inspires creativity. When your children get a bit older, music is particularly helpful with verbal expression, emotional expression and auditory development.
Encourage imaginative thinking by creating music-inspired art or making a storyline to follow the music. For example, in our classes, our students listen to live classical music while drawing with crayons in response to what they hear! You can support verbal and emotional expression by giving your kids a music vocabulary. Begin with simple language to describe musical terms: is the music high or low (pitch), slow or fast (tempo), loud or soft (dynamics) happy or sad (emotion)? Graduate to trying to identify particular instruments and composers.
It's easy to see why early introduction is so important when you look at all the parts of the brain activated when listening to and playing music: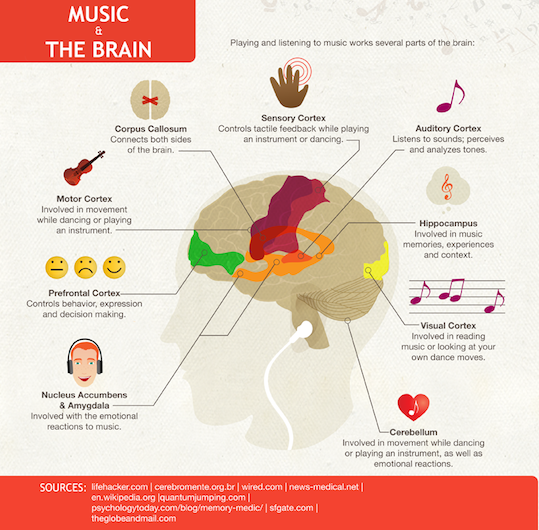 Remember: you don't have to be a musician to introduce classical music to your kids confidently. You just have to love the music you are sharing! Here are my picks for five fantastic must-hear pieces of music to share with your family:
click on the links below each song to listen to and learn more!
1. In the Hall of the Mountain King (Edvard Grieg)
Heavily used in film and television, this song from Norwegian composer Grieg's Peer Gynt is familiar to lots of non-musicians. The accelerating tempo keeps you listening on the edge of your seat in suspense and is perfect for creating music-inspired art or a storyline!
Featured instruments to listen for: Bassoons, Basses, Cellos, Violins, Clarinets, Cymbals
View on YouTube | View on iTunes | About the Composer
2. Arabesque No. 1 (Claude Debussy)
Debussy's mesmerizing composition is ideal for relaxation, daydreaming, and naptime. To me, the trickling piano notes sound like a waterfall gently flowing into a babbling stream. Ask your kids to describe the types of nature scenes, animals, and people they imagine when hearing the music.
Featured instrument to listen for: Piano
View on YouTube | View on iTunes | About the Composer
3. Flight of the Bumblebee (Nikolai Rimsky-Korsakov)
This orchestral interlude from Rimsky-Korsakov's opera The Tale of Tsar Saltan is very fast and short- most performances last only about a minute and a half! A great way to use this composition is as a "clean-up" timer. See if your kids can clean up before the music ends.
Featured instruments to listen for: Violins, Flute, Clarinet, Horns
View on YouTube | View on iTunes | About the Composer
4. The Habanera (Georges Bizet)
You'll easily recognize this aria from Bizet's opera Carmen– it is one of the most popular and most beautiful of all time. In class, we use the setting of the opera (Seville, Spain) as inspiration and snap castanets and dance flamenco-style in response to the music. Teach your kids some basic flamenco moves- hand clapping, foot stomping, wrist twirling – and get dancing!
Featured instruments to listen for: Strings, Flutes, Horns, Bells, Triangle, Cymbal
View on YouTube | View on iTunes | About the Composer
5. Aquarium (Camille Saint-Saens)
The shimmering glissando in this movement from Saint-Saens' Carnival of the Animals is completely entrancing and calming. It's one of our favorite classical pieces to play in class! Before listening, ask your kids what they might see in an aquarium. (Fish swimming, sea grass swaying, coral, shiny rocks, bubbles rising, etc.) This is perfect for naptime and creating music-inspired art.
Featured instruments to listen for: Piano, Violins, and Flute
View on YouTube | View on iTunes | About the Composer
Carina Zimmerman is one of the co-founders of TLB Music, a children's music studio and indoor playspace located on the Upper East Side. She is also the author of The Bird Feed NYC, TLB's blog filled with family-friendly music to share, free printables for kids, NYC history, product recommendations, and nostalgic photo collections.
Follow TLB Music on Facebook and Twitter
Follow The Bird Feed NYC on Facebook, Twitter, and Pinterest
"Music & The Brain" source